The 3rd International Martial Arts Hall of Fame World seminar on May 16, 2020 in Tiel Netherlands, will be again a wonderful day! Top martial arts (Grand) masters and (World) champions from all over the world will once again provide wonderful lessons and martial arts demonstrations!

Keep following us who will be present on Saturday May 16th 2020! Don't miss this unique World seminar with great demonstrations !!
Everyone also receives a certificate of participation. You can have this signed by your favorite teachers who are present!

Word Martial Arts seminar and demostrations: Saturday May 16th 2020, 9 a.m. to 5 p.m.
Address:
Sports hall Westroyen
Predikbroedersweg 14
4003AL Tiel the Netherlands

Participation from 12 years.
Beginners and advanced participants, regardless of style and Martial Arts!

If you want to be sure of participating in this unique event, register online now!

With the early bird discount you only pay: 47.50 euro!
After January 20, 2020: 55 euro
At the door on May 16th it is more expensive: 60 euro per person.

For questions or information please call or whatsapp Martin Zingel +31 654325285
Email martin@ima-halloffame.com
2018 list of 46 (Grand) masters and (World) Champions from all over the world who taught at the 2nd International Martial Arts Hall of Fame
on  April 7th. Several also provided a wonderful martial arts demostration during the seminar day: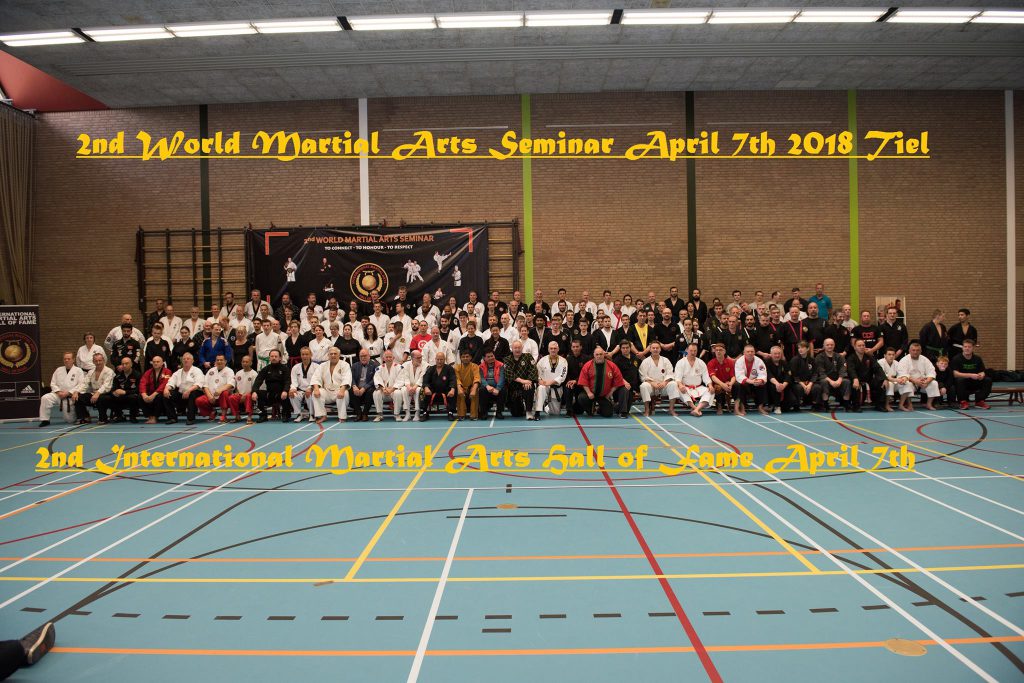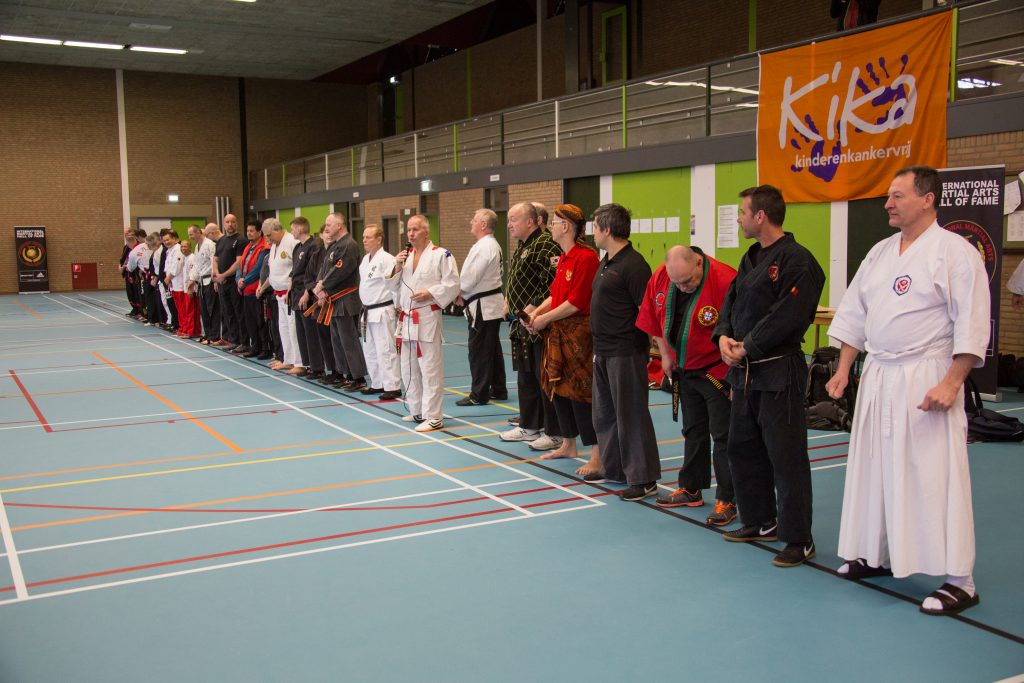 1) GM Geoff Booth 10th dan (AU) Sin Moo Hapkido, Kwan Nyom
2) GM Kaicho Raffi Liven 5 x 10th dan (IL) Sho Shin Karate Do, Kyokushin Budo Kai, Krav Maga Li, Pankration,
3) GM Soke dr. Keyvan Dehnad 10th dan (CH) Jiu-jitsu, judo
4) GM Joaõ Botelho 10th dan (PT) combat Jiu jitsu, selfdefence,
5) GM Cees Dekker 10th dan (NL) Tai jutsu, Jiu Jitsu, Judo, Karate
6) GM Jaap Korzelius 10th dan (NL) Tai Jitsu, Jiu-Jitsu, Judo Wado Karate
7) GM Rene Kraft van Ermel 10th dan (NL) Kempo Kuntao (Founder)
8) Kyoshi Albert van Mildert 9th dan (NL) Jiu Jitsu, Judo, Kobudo
9) Shihan Semmy Schilt 9th dan 6th dan (NL) Ashihara Karate 4 x K1 winner, 5 x World Champion
10) GM Dirk Klok 8th dan (NL) Ju Jitsu, Tai Jutsu, Judo, Karate
11) GM Franz-Josef Wolf 8th dan (DE) Hapkido, Silla Gum-do,
12) Hanshi José Pisa 8th dan Goshin Kenpo Kobujutsu (founder), Kenpo Karate, Kick boxing, yawara Jitsu
13) Renshi Martin Zingel 8th dan (NL) Jiu-jitsu, Taekwondo, Hapkido, Judo, Kyoshu 3 x World Champion
14) GM Jafar Zareei 8th dan (NL) Taekwondo
15) Kyoshi Hubert Laenen 8th dan (BE) Motobu Ryu Kyu kobujutsu Moidi, Karate, Kyoshu, Judo, Kempo
16) GM Axel Nobbe 8th dan (DE) Taekwondo, Hapkido, Kick boxing, Karate
17) GM Jose Luis Montes 8th dan (ES) Police self defense
18) GM Peter Voogt 8th dan (NL) Karate
19) GM Rodelo Ubaldo (IT) Arnis Sikaran
20) GM Dirk Eiringhous (DE) Ip Man Wing Chun
21) Sifu Gajanand Rajput (IN) Wu-Shu Kung Fu , Shoalin Temple, Grand champion
22) Sifu Utz Gestmann (DE) Ip Man Wing Chun 7th degree, Taekwondo
23) Sifu Frank Siemons (DE) Ip Man Wing Chun 6th degree
24) Master Brandi Manolo 7th dan (IT) Kick boxing , Jiu-Jitsu, Judo, European and World Champion
25) Soke Mario René Freiherr van Röhl 7e dan (DE) Okinawa Karate, Shorin-Te Ryu
26) Soke Silvia Freifrau van Röhl 7th dan (DE) Okinawa Karate, Shorin-Te Ryu
27) Master Jesica Seo 7th dan (NL) Hapkido, Taekwondo, Hanguldo, European Champion
28) Shihan Ruud van Vlaanderen 7th dan (NL) Karate, Pencak Silat
29) Master Volker Gößling 6th dan (DE) Hapkido, Hapkiyusul, Jiu jitsu
30) Shihan Jean Pierre van Vre 6th dan (BE) Tai jutsu, Goshin Jutsu, Aiki Ju Jutsu, Kobudo
31) Shihan Ries van Toorn 6th dan (NL) Karate, Kempo Karate, IOGKF, European and World Champion
32) GM Teo Radut 6th dan (RO) Karate, Jiu Jitsu, judo
33) Master Marcel de Jong 6th dan (NL) Kempo 10 x World Champion
34) Master Jerry Smit 6th dan (NL) Wado Karate, Yawara Jiu Jitsu, 3 x European Champion
35) Master Drs. Jan Bloem (NL) Systema , Karate
36) Sifu Robin Vader (NL) Jeet kune do
37) Master Vitor Lagarto 6th dan (PT) Ki Ryu Kenpo (organizer Lisbon Hall of Fame)
38) Master Nuno Trindada (PT) Krav maga
39) Sifu Stephan Lange (DE) Ip Man Wing Chun
40) Master Adu Dulas (AT) Krav maga, RSCD
41) Master Manfred Salmhofer 6th dan (AT) Hapkido 7 x European Champion
42) Master Pierre van Benthum 5th dan (NL) Hapkido, Hankido, Taekwondo, Kyoshu
43) Master Chris de Witte 5th dan (BE) Kali Eskrima
44) Gustavo carneiro 5th dan (PT) Goju Ryu Karate, Kyusho, Systema, Aikido
45) Yenny Luu 4th dan (NL) Kempo Kuntao, World Champion Kempo, grand champion American Kenpo (assistent)
46) Torsten Kerber 4th dan (DE) Hapkido